Today's featured product is called Tropical Morning.  This beautiful design was created by Massachusetts artist, Diane Clancy who creates vibrant paintings that feature color and vision to inspire and uplift people.
Diane says in part, about this design, [t]ropical Morning transports you away to Paradise with vibrancy, fantasy and color to give you a mini-vacation any time you desire. Swirling colors of magenta, purples, teal, pinks, azure and violets dwell within this magical landscape of beauty and magic.
Tropical Morning is available on a wide variety of products for your gift giving pleasure or to treat yourself.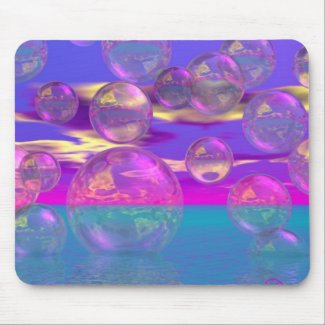 Tropical Morning – Magenta and Turquoise Paradise
by
DianeClancyBubbles
View other
Diane clancy Mousepads
Tags: art, bubblescape, customizable, customized, diane clancy, fantasy, featured product, gifts, landscape, mouse pads, mousepad, mugs, mythical, personalized, shopping, stickers, t-shirts, tote bags